Fri Aug 19, 2011 at 10:59:52 AM EST



folks. I've been a pretty useless badger for a long time, for reasons I won't go into; but now is the time to keep the sett doing what it does, maintaining some communication, if only to honor the lady who has meant so much to us all.

This has been a special place for a lot of folks, and the dwindling of the population has made it, if anything, the more special for those of us who remain. ML lives here, regardless of whether she is ever able to come here again. She invested her love here, for all of us, even when every letter she typed was accompanied by serious pain.

flagpole :: can't be backing off
Eventually, of course, we'll each wander off in our respective direction, but I vote that we maintain this as a place of jest and music and, well, yes, love, for a bit longer, as a monument to the bestest Badger ever.

no puking from the peanut gallery (or from me)

A burglar second-stories a darkened house in the upper 'burbs. He's rifling through milady's jewelry, figuring he has it made, when he hears a voice:

"Jesus is watching you"

Startled, he drops his flashlight, scrambles around to find it, then stands dead still and listens for a minute, heart pounding......nothing.

"Geez, I'm getting too old for this shit," he says to himself. "Hearing voices...geez." And resumes pawing through the loot.

Again:

"Jesus is watching you."

This time he manages to hang on to the flashlight and quickly sweeps the room. On the second pass, he sees a large cage in the corner, and a bright green parrot.

"Damn," he says aloud. "Just a fucking parrot." and laughs. In his relief, he throws a necklace at the cage, and says: "You're just a bird, you don't scare me."

The bird, cocks its head, and drawls back:

"Yeah, I'm a bird. But Jesus is a Rottweiler."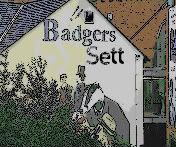 ~~~~~~~~~~~